Her Life ...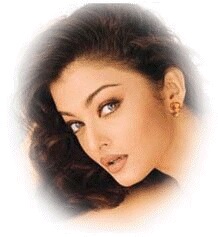 Aishwarya Rai's career took off as soon as she became 1994 MISS WORLD. She started her career with modelling and became one of the known models of India. Aishwarya only has a brother, Aditya, and she is stilll unmarried at the age of 24. Aishwarya has moved up from modelling to acting now, and is doing several hindi movies after doing a few south indian ones.
She started of as a model (remember the pepsi ad where in Aamir Khan run around all over the place for pepsi ; well in that she makes an incredible appearence at the fag end of that ad),and was mostly into studies until she decided to go for Femina Miss india Title in 1994.She went for it and became the first runner up.As she got the 2'nd place that meant that her dream of going to Miss Universe was gone.But she did'nt lose heart and went for the Miss World Peagent.
By the time She was going to Miss World peagent MIss world peagent competitin had got over and Sushmitha Sen(Miss India1994) had won that peagent.This caused more pressure on Aishwarya to win Miss world title as most people were optimistic for her rather than Sushmita.
Luckily for Ash as soon as she landed in Sun City, South Africa (Place where Miss world peagent was held in 1994)people had fallen for her because of her grace and charm and ofcourse beauty.Word was around that she was the favorite to win.
Before going on to win the Miss World title she won the Miss Photogeneic award as well.
Aishwarya Rai, the second child of Brindya and Krishnaraj Rai, was born blue-eyed like her grandfather. Over the years, the color slowly changed into the now famous grey-green. By the time she had reached high school, her charm could move mountains and little schoolboys, who every week proposed everlasting love and marriage to her. At home, she received cards and telephone calls from admirers that earned her disapproving lectures from her protective older brother.
Through all this, Ash (to her friends) moved gracefully and remained focused on her studies, excelling academically and becoming the Head Girl of her school. While studying architecture in Bombay, she oved into the heady world of modeling and even without a regular ortfolio of pictures, was soon in great demand, bagging many prestigious ad campaigns and gracing the most important fashion shows. But it was her unforgettable Pepsi commercial with actor Aamir Khan -"Hi- I'm Sanju"- that took her to the masses.
In 1993, it was rumored that she had decided to enter the Miss India contest and certain newspapers began endorsing her as the "Face of 1993". When she did enter in 1994, a spontaneous publicity campaign awaited her.
"Initially I tried to dissuade her," recalls Hemant Trivedi, Aishwarya's close friend, designer and the person who gave her the first break as a model. "What was the need when she was already a star. She's a stubborn ox and when her mind is made up, there is nothing or no one who can change it. I think her entering was more of a "I want to feel good about myself" decision. Unfortunately, she was under tremendous pressure by trying to live up to other people's expectations - and that is really never fair".
In Goa, everything went right for Aishwarya in the first few days of the pageant. She had won the Miss Catwalk, Miss Photogenic and the important Miss Perfect 10. With each succeeding crown, the 23 other contestants began to get edgy, particularly with the last title, since it would count in the event of a tie. As one of the five finalists, Aishwarya was posed the common question : Which historical moment would you rewrite if given the chance to do so?" She stated that she would rewrite the moment of her birth, so she could have been born a leader of sorts and changed the world to bring peace. Her answer appeared self centered and the pendulum swung away from her. The judges called for a tie, and another agonizingly tense round of questioning took place on stage.
Did the sudden swing of the press upset her? "When people expect too much of me something always goes wrong," she explains. "I was always a top scoring student in school and during my ICSE, I expected to do brilliantly, but I wasn't even amongst the top three. I stood eighth in class. That was the one time I broke down and was shattered. But it taught me a lesson in life. In fact, just before the Miss India contest, the newspapers made me the hot favorite and intuitively I told my friends then, that I wasn't going to win. Even at the Miss World contest in South Africa, though I was just one contestant amongst 87, just before the pageant, I was touted as the hot favorite and I thought to myself, "Jesus, this is all I need".
For her homecoming in December 1994 with the Miss World crown firmly on her head, thousands of Indians thronged the airport and lined the streets around her horse driven cavalcade. The prodigal daughter had come home to a royal welcome. During her reign, Aishwarya essentially lived in the United Kingdom and returned only four times to India, to complete various modeling assignments. She naturally spent her free time with close friends and family, catching up on all that she had been missing. "No matter how euphoric the victory was, I could not wait to return home. London was cold and grey in January, and I wondered how I would spend the next ten months away from India. It was a physically and emotionally exhausting year, no two ways about, because you have to be aware and alert all the time. After all, though I was presenting myself as an ambassador for the world, I did want to leave an impression as an Indian. Britishers have heard tales of India from their grandparents and their picture of India is still shaped by these stories: India has this sarkar system, you have trees from which you can pluck fruits and tigers roaming around you. I was hysterical when I heard it. They couldn't believe I was educated in India. They couldn't even believe that we have English-medium schools in cities!"
Her appearance at numerous charity balls and dinners allowed her to meet Hollywood stars and members of many royal families. About her career change she explains, "I was unable to continue studying in India because quite honestly, the circumstances were not the same. I was no longer perceived as a "normal" or regular student. For my peers and professors, I was Aishwarya Rai - the personality. I saw this when I was felicitated sweetly by my college. In the environment, I don't think I would have been comfortable as a student. I've chosen films because people suggested that I could try it out for a year and if I didn't enjoy the experience I could always pack my bags and go overseas to study further."
Having pledged her beautiful eyes to an Eye Bank and endorsing it on national television, Ash was once again showered by publicity. Since her entrance into the Indian film industry in 1995, she has been signed on by the best directors, in films with lavish budgets, opposite leading stars and is today the superstar of the Indian film industry. Aishwarya Rai - an original, who is treading very well in her transition from beauty queen to screen queen, moving beyond the flashlights into the limelight.