Personal Information
Profession: Model and Actress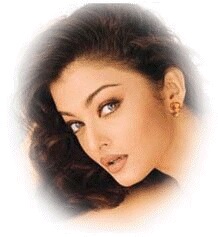 Address: 402 Ramlakshmi Nowas
16th Road (Near Khar Gym), Khar (W)
Mumbai 400 054
Tel: +91-22-6054440 / 6463744 / 6463930
(Try your luck!!! It worked for me)
Nick Name: Aishu
Popularly Known As: Ash
Date of Birth: 1st November, 1973
Zodiac Sign: Scorpio
Place of Birth: Karnataka
Height: 5'7"
Weight: 55 kgs
Eyes: Green-Blue
Identification Marks: Mole on left hand above elbow
Languages Known: English, Hindi , Kannada, and Tamil
Awards: Miss World 1994,
Most Photogenic Face,
Miss India 1994,
Screen Weekly 1997,
Discovery of the year (Screen 1998)
Most Promising Newcomer,
and many more to come...
Clothes Casuals and Formals: Like structure jackets, form fitting gowns for formal wear and chikan salwaar kameez for casual wear. Jeans & T-Shirt do very well too. Hate anything that's fussy and frilly
Favourate Designer Objects : Longines Watches
Favourite Jewellry : Dainty Jewellry
Favourite Cars : Toyota Celica
Favourite all-time movie: Casablanca
Food habits: Fussy About Very plain fare. Not fussy about food at all. Can survive on dal chawal and vegetables
Happy moments: Family and a very close group of friends
Scary moments: Cockroaches, she abhors them
Hate: Gossip, hypocrisy
Dream man: Handsome but not necessarily tall and dark!
Idea of love: Is what her parents share
Weakness: Willing-ness to take people at face value
Strength: Self-assurance. It's ever present even in the worst situations
Idea of bliss: Lies somewhere in the vicinity of her bed (loves to laze, that's all she mean!)
Possessive about: The people she care for
Favourite colognes: Happy by Clinique
What turns up on: Razor sharp intelligence, witty repartees
Fovourite pastime: Sleeping (Alone, mind you!)
Idea of sexy: A combination of vulnerability and intelligence
Favourite number-group: Very democratic in tastes, anything that's music to ears, will do
Sentimental about: A lot of things from her childhood
Favourite holiday resort: Any place that gives her peace of mind
Admire: Strength of character
Believe: In God first and then herself
Best compliment received: A child at an orphanage told her that her warmth over shines her beauty. She was bowled over!
Paranoid about: Being an under-achiever
Colours crazy about: Black, she love it!
Booked in the industry till: She utters the magic words, 'I Do'
The saddest moment: When she didn't make it to the top three in her 10th grade
Favorite Actor(s): Raj Kapoor
Favorite Actress(es): Madhubala and Nargis
Brother: One brother (Aditya, 3 years elder)
Father's Occupation: Merchant Navy Officer
Father's Name: Krishnaraj Rai
Mother's Name: Brindya Rai
Schooling: Arya Vidya Mandir, Santacruz, Bombay, India
Academic Record: Excellent
Intermediate College: DG Ruparel College, Matunga, Bombay, India
Favourite Subject At College: Zoology
Percentage Of Marks Obtained At Her HSC Exams: 90%
Career Selected After HSC: Architecture course at Raheja College
First modelling Assignment: When she was at 9th grade, for Camelin Industries
Other Modelling Assignments: Pamolive, Casio pager, Pepsi,Philips, Sheetal diva, Prudent
She Describes Herself In One Line: "I'm just average woman with average concerns"